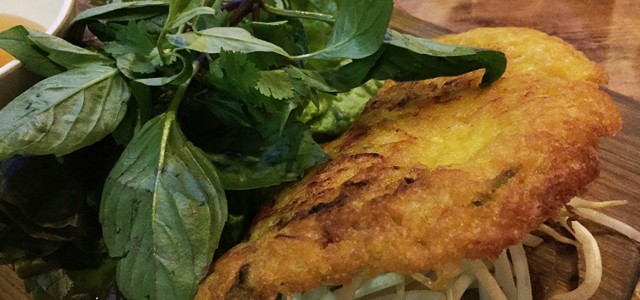 Dear Food Diary:
Sometimes ignorance really is bliss. In some instances, it can lead to a really good pho-king Vietnamese meal. Case in point, our adventure to Bun-ker Vietnamese.
StalkerHubby and I were in Bushwick one evening and from the map, it was an easy 15-20 minute walk. Not knowing how isolated and empty the cross from Bushwick to Ridgewood would be at night, we ventured on foot. In the dark, amongst warehouses, the only 2 pedestrians in sigh. Our head told us to go back, but thankfully our tummies, as always, won the argument.


But why on earth would you open a restaurant in the middle of literally no where!?
Upon further chat with the boys, it turned out to be the result of resilience, hope and a perfect case of life throwing you extra lemons.
You see, this use to be the where Ridgewood's Fish and Ship Seafood Co. once stood. Flooded by Sandy, Jimmy Tu found his wholesale business underwater.
Rebuilding the business had challenges, so instead, he and his partner combined their food background to open Bun-ker. The name is a nod to the shelter from the storm, with a fun play in the word "noodle" in Vietnamese.

We started off with their Traditional Bahn Xeo which translates to"sizzling cake". Don't let the yellow exterior fool you, there's no egg in the batter. The color actually comes from turmeric powder. In addition, this savory shell simply has rice flour and water. Their version also has shrimp and bacon. Deep fried to a crackling crunch.
Wrap a piece of the crisp crepe in lettuce and add all the bean sprouts, mint and basil you like. Dip it in the sweet, savory and fishy sauce. What a bite. So many textures and though it's deep fried, the greens and sprouts really lighten it.
I hear this is a classic Vietnamese street food. I've yet to visit that part of Asia, but I'll get there one day soon.

The special of the night was Angel Wings. A boneless wing that's stuffed and deep fried! Say what?
If you see it on the menu board, you must order it. Is it cheesy to say "it's heaven sent"?

In celebrity couple terms, I would call it the "Winoll" (wings with a Vietnamese spring roll tucked in). Only the "wrap" has so much more flavor than the original. The pork, shrimp, vermicelli and veggies filling is on point. Perfectly golden on the outside. The crispy crunch and juicy center. I can't wait to have it again. I hope this becomes a regular on the menu. I'm drooling just thinking about it.

Surf and Turf their way. The grilled lemongrass angus short ribs on vermicelli had a nice caramel like char. Tender and juicy beef with just the right amount of sweetness. The star were these jumbo shrimps. It showed their seafood love and serious sourcing connections. I wish the shrimp had their head on. Other than that, this was a spectacular bowl. Great quality of ingredients.

The Coconut Tapioca Pudding was the perfect mixture of creamy and fruity. Almost like an edible tropical cocktail. Pieces of young coconut, jackfruit and palm seeds were found in between bites. Each bringing their texture and aroma. I love ending a meal on a good dessert, in fact this is the only dessert on the menu. No complaints here.
Overall, the meal was fantastic. I would say one of the best Vietnamese meals I've had in a while. Their broths are also superb (sorry no photo). Prices aren't like Chinatown, but the quality either so don't be surprised.
Because of the overwhelming amounts of new restaurants openings in NY weekly, it's really hard to want to repeat. There's always something new and not always memorable, but when solid spots like this appear, I can't help but want to become a regular. In times like these, I really wish I had a car.
However you get there, it's definitely worth the trip.
P.S. Chubby's Rating:
bunkervietnamese.com
46- 63 Metropolitan Ave
Ridgewood, NY 11385
(718) 386-4282