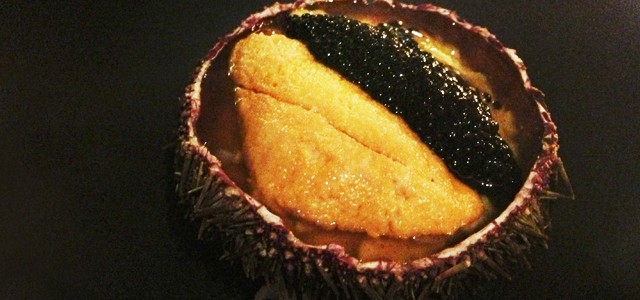 Dear Food Diary:
Right before leaving for Japan this summer, my friend J and I had a great get together over sake and Japanese style tapas at SakaMai.
Their Egg on Egg on Egg has been on my mind ever since (even after coming back from Japan). Definitely one the highlights of our meal.


We didn't have reservations, so we got seated in the front area with high stools. Nice and relaxed atmosphere. Casual.
Along the narrow dining tables there's also couches in the back and a beautifully stocked bar.

We started off with a Kuchinashi aka their take on the sweet and fruity lychee martini. Made with my favorite nigiri sake (unfiltered).
Flights of sake were tempting too, but J and I had just come from a happy hour networking event and my tolerance have dropped dramatically. Plus, my Asian glow never ceases to call me out.

Renkon Chips aka Lotus Root
These are always a favorite of mine. Lightly seasoned. Perfect snack with drinks. Superior to potato chips in my book, because aside from the crunch, there's also a sweetness at the end. I hope they'll find a way to package these and sell in family sizes. I'm not dietician, but I believe they are healthier than potato? Any food police here?

Kanpachi – Amberjack
The meaty, buttery fish is brightened with shiso strings, myoga (aka Japanese ginger – a milder young ginger flower bud) and  my favorite yuzu for that sweet citrus touch. Lightly brushed with soy and a dab of fresh wasabi. A mouthful of flavors that are big on their own, but in this case worked harmoniously together.
Now to the highlight… 

Egg on Egg on Egg
Served on uni shells (though, I think they've switched to porcelain faux uni bowls, which sorta takes away from the experience). Anyways, on my visit the uni shell really brought the dish to live. Sexy as can be. All of my favorite ingredients in one spoonful. I love uni, but this is just another level of indulgence.


Soft scrambled eggs topped with sweet creamy sea urchin and as if that wasn't enough, a layer of sturgeon caviar. This is unquestionably SakaMai's Signature Dish. Melt in your mouth richness with pops of briny and salty sea pearls. Eggs will never be the same again.

Chawanmushi with Duck and Foie Gras
"Tea cup steam" which is a Japanese version of egg custard is rather popular throughout Japan. I had really good renditions during my stay, but SakaMai's twist was pretty unforgettable. Silky egg with some gamey duck and rich creamy foie. Deep flavor combo.
It's not on their menu at the moment, but one of the owners told me it would return for the cooler weather, which makes sense. This is one of those dishes that just warms your belly.

Croquette
Lobster and Iberico lardo de Bellota is a mouthful just to pronounce it all, but this wasn't as umami filled as I expected. Maybe two positive ingredients made it a negative, canceling all that beautiful flavor from each other? It wasn't bad by any means. The miso and lobster bisque foam were tasty, but it just wasn't that memorable.

Roasted Bone Marrow & Steak Tartare
In theory it was great and the steak tartare was… But for some reason, the marrow in blob cube form just didn't do it for me. I like marrow to be more like a spread, not a reminder of pieces of fat. Is that just me? But it just wasn't as sexy and appealing to the eye. Texture wise it didn't melt immediately, it was almost like I had to pop it in my mouth, which wasn't as pleasant. But the toast and tartare were well seasoned.

I got a seasonal dessert of mont blanc (chestnut paste) with rice pudding and ice cream. I can't remember exactly, but I do recall it being really good and not overly sweet.
Overall, SakaMai is a great little addition to the LES. Intimate enough for a date but also nice and casual for friends to get together and relax over sake and bites.
Though prices aren't cheap, the quality of the food makes up for it. If anything, at least try the Egg on Egg on Egg.
P.S. Chubby's Rating:

www.sakamai.com
157 Ludlow St.
646.590.0684