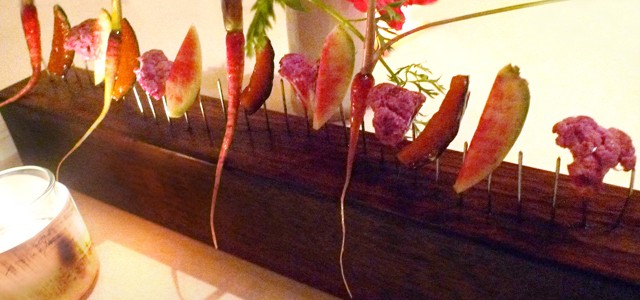 Dear Food Diary:
Through the years, there's only been one place that has truly stolen my heart in every single aspect of a perfect dining experience – Blue Hill at Stone Barns.
This is my visual love letter to unforgettable seasonal experiences at Blue Hill at Stone Barns, Blue Hill Cafe and Blue Hill NY.

This post took years in the making…
My original plan was to dine at Blue Hill Stone Barns every season. But then I realized, a compilation of both locations plus the Cafe would be a unique approach as well. A way to appreciate Dan Barber's farm-to-table at any budget.
Blue Hills at Stone Barns
Is a beautiful building surrounded by acres of land. You'll find seasonal vegetables, maple trees, herbs and beautiful flowers. Farm animals, fresh eggs and all that good stuff. They have a farmer's maket on weekends and tons of activities for kids and locavores throughout the year.

The farm
Just a train and cab ride away. It's a wonderful way to get out of the city. Fresh air while exploring the farm even if you don't dine at the high end restaurant. That said, I think everyone should experience one of their elaborate multi-course meals at least once. (One of my dinners lasted  over 4 hours).

The Experience & Service
I call this an experience because the minute you walk in, you start interacting with folks who are proud of what Blue Hill and Stone Barn stand for. Eating the best of seasonal and local ingredients, the way we were meant to eat.
The service is top notch but friendly and approachable. Plus, they bring over a little sofa for your bag.
The waiters and maître d are eager to share and explain every single bite they bring. Helping you understand the source, the seasonal value, the way it was prepared and so on. Happy to answer any question.
I've never had this kind of in depth chats about each course before.
They'll gladly take you around for a tour of the kitchen, herb garden or in one case how their own "bio compost" (made from seafood shells)  were used to grill our onions.
I always walk away learning something new.

The Food
Most importantly, the food is prepared impeccably. Some approaches better than others, but overall, I've truly enjoyed many wonderful dishes that have left a mark on my tastebuds.
Farmer's Feast start at $148 and go up to $208. After drinks and all, the bill is quite hefty, but definitely worth the splurge on a special day. I believe lunch is less expensive.
Here are the delectables seasons according to Blue Hill…

SPRING

– Blue Hill at Stone Barns
Highlights:
• The infamous way their seasonal crudités are presented
• Amazing brioche with a ricotta – made table-side from the farm's milk
• Maple water from their own maple tree
• Mini beet burger
• The best runny farm egg and edible soil I've ever had
• Hake and razor clams
• A still life of seasonal vegetables and locally sourced beef
SUMMER – Blue Hill at Stone Barns
Highlights:
• Head cheese in thin, crispy chip form served on branches, brought to table bonsai style
• Liver mousse sandwiched between two bittersweet chocolate crisps
• Embryonic egg yolks – dried and shaved over pasta table side as you would cheese. A salty dust like Chinese   salted egg yolks
• Young squash and zucchini "spaghetti" with a yolk on top
• Sake braised whole cod head – eyes and all. I love the cheeks.
• Going outside to see their "bio compost" fired up on the grill
• The best grilled onions I've ever had. Sweet with a light smoky flavor from the bio compost
• Fruit in desserts served in different forms – dried, poached, compote
FALL – Blue Hill Cafe


The casual Cafe is great for a light lunch or a coffee break. After greeting the sheeps and chicken we walked further away from the main buildings and found ourself surrounded by a carpet of autumn colors and even neighbors on horses. See the full post.
WINTER – Blue Hill NY
Blue Hill NY is a lot more accessible and affordable than the upstate mother ship. Offering a regular menu as well as a five-course "Farmer's Feast" tasting. Though it's a completely different experience than visiting the farm, food is equally superb and sourced the same way. 
I went with the a la carte option my visit.
Highlights:
• Perfectly prepared lobster and choy
• Hearty stew of lentils and butternut squash with berkshire pork belly
There are similarities like crudités and mini beet burger after a few visits, but there are always elements of surprise in each season. And I find myself looking for another reason to revisit…
P.S. Chubby's Rating: 

bluehillfarm.com
Stone Barn: 630 Bedford Road, Tarrytown, NY
NYC: 75 Washington Place